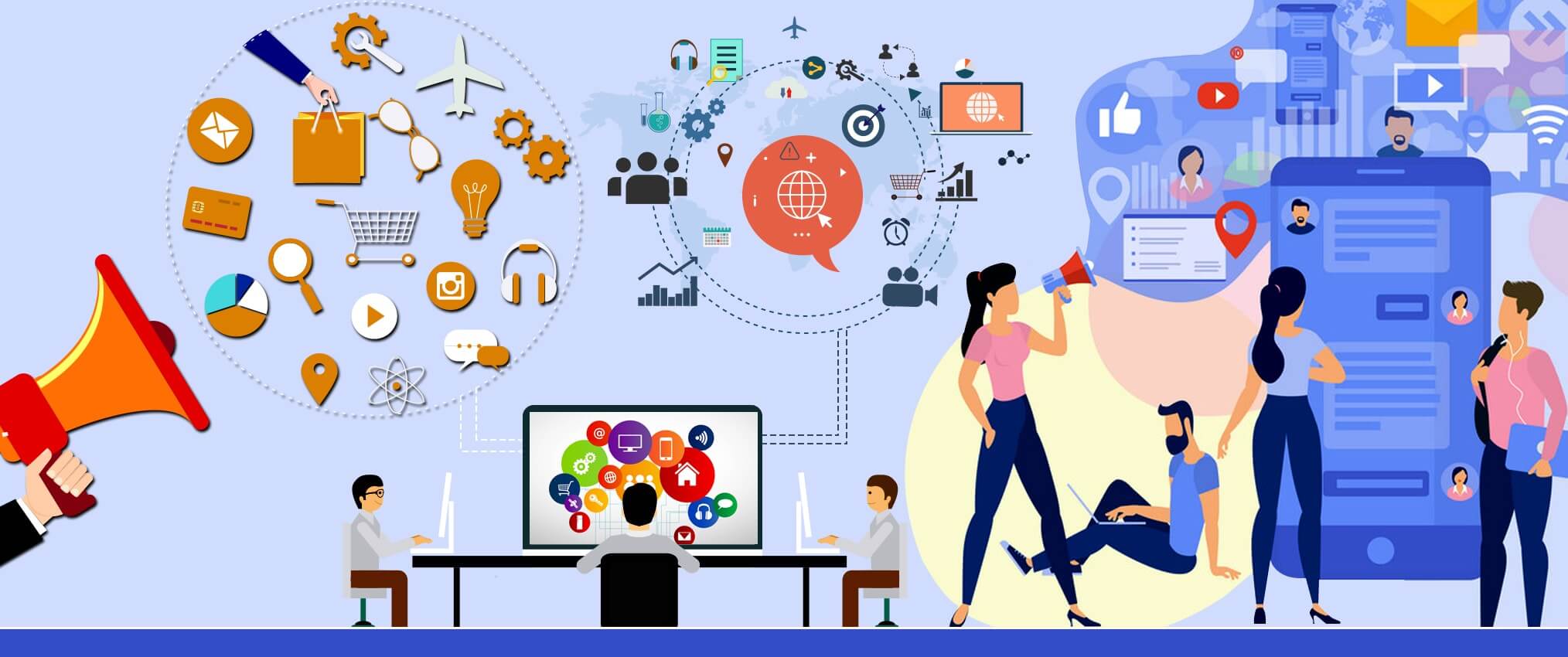 13 Sep

The growing importance of digital marketing in today's fast paced and ever changing technology world

If you compare the strategies that the firms adopted during the pre-digital marketing era with the strategies that firms are adopting in today's environment of digital marketing you will find that there has been a tremendous shift in perspective and approach towards business promotion and growth.

The firms of the digital marketing era are smarter, efficient and faster paced. Digital marketing is helping firms grow their business drastically and efficiently.

Digital marketing refers to marketing with the help of digital channels or mediums such as websites, social media platforms, blogs, email, apps, etc. It is a way to promote brands and products online and through other digital channels.

Product Promotion and discovery:

The consumer behavior has changed due to the advent of social media and technology. Consumers are looking for information online therefore it is necessary for brands to have a strong and positive online presence.

You can have the best product and best service but if your target audience doesn't know about your product/service then none of that matters. Here's where different forms of digital marketing comes into play. One can use different digital media channels to promote their products and make their target audience aware about their product, service and the brand.

With the help of social media sites, brands can target the kind of audience that resonates with their product. They can target a particular demographic, particular area or country, they can target consumers based on their interests and behavior.

Just to give an example, if a person has started a T- shirt business in a particular state of the united states then through facebook he/she can target all the people present in his area or around, the people can be filtered according to age, interests, behaviour,demographic etc.Similar thing can be done through other social media channels like instagram, pinterest, twitter and linkedin.

Consumers are using search engines to discover the products that meet their needs. A potential customer types in the query in the search engine and the search engine gives the result that closely matches the customer query.The top results are usually the ones that are considered by the potential customer.Content is created by keeping certain keywords in focus and then appealing content is written around those keywords to get to the top of the search results in search engines.Businesses use using various strategies to get to the top pages of the search results such as SEO, PPC, SMM, etc.

Consumer behavior analysis and product development :

Businesses are using digital media channels to see how people perceive their product or service.They monitor what people are talking regarding their product or service on various social media sites and forums.
Through this strategy firms can know what people admire about the product and what they don't then accordingly they can tweak the product features.

Firms are also using social media channels to do market research to make a product that fits consumer needs.They are taking advantage of online surveys, quizzes,questionnaires etc to figure out the needs of the people.Not only that, they are also using these techniques to figure out latent needs of the consumers, i.e the needs which consumers don't even know they have.

Digital media is being used to assist marketing activities.Firms can test various ads to see which had better performance and which had a positive feedback.

Firms are also addressing complaints and queries regarding the product or its features on social media and public forums.Brands are keeping an extra vigil on social media channels to see what kind of complaints they are receiving regarding their product or service.Complaints redressal is getting fast and easy as brands are now directly responding to complaints that people have put on their social media accounts.This helps the brands in building their brand image and enhancing customer service.

Brand management :

Every brand has their story and they need to tell their story inan effective way to their target audience. Brands are using digital media to tell their Stories and connect with their target audience.They are using creative video campaigns to capture the imagination of their audience and evoke their emotions so that they feel a personal connection with the brand.

Brands want to build deep connection and trust with their consumers this leads them to being their loyal customers.If the brand establishes a high level of trust with people then it becomes easy for them to sell their products and services to their consumers.

Brands often launch their products with creative video ad campaigns that has a certain underlying message for their target audience.With the help of video graphics and imagery they can highlight their product features, showcase product usage scenarios, demonstrate how the product is unique and different from other product offerings in the market and much more. Many popular brands have taken advantage of creative video ad campaigns to make their products highly successful in the market.